3 Dudes - $40 new class
(fee includes fabric kit)
October 22; Tuesday morning 10-1 or
October 22; Tuesday afternoon 1:30 - 4:30
If you are an absolute beginner, have never made a quilt and want to see if quilting is for you, then this is the class to start with. E. Burns talks about making a "quilt in a day." Yes you can do it with this pattern. The finished blocks look like a double pinwheel. You won't believe that you can make such a complicated looking quilt as a beginner. Several students started with this class 5 years ago and now are prolific quilters. We won't make you buy $$$ of rulers and gadgets for this class. See if you like this crazy hobby before investing lots of money.
All you need is a pencil, scissors and straight edge (or rotary cutter, ruler, mat) and sewing machine, seam ripper always a good idea! (See photo below). We supply the fabric strips. Choose your color from a variety of Bali Pops.
The kit makes 25 fabric blocks which can be set into a lap or crib size quilt. This class only shows you how to make the top. See other sessions for adding sashing, borders, quilting, and binding.

The Basics - Sashing and Borders: $20 New Class
Tuesday morning October 29. 10-1
4 spaces - bring your blocks or tops

Learn how to calculate fabric needed for sashing and borders using manual formulae and a quilt calculator
how to eliminate wavy borders and keep the top flat
which layer on top when sewing
what is straight of grain and why does it matter
Tap into our combined 100+ years of quilting. Learn tips not in the quilt books!


The Basics - Sandwich layers and Finish the quilt! $50 New class
Tuesday all day November 5. 10-4
limited to 3 students - bring your top (crib, lap, throw)

Learn how to finish your own quilt instead of sending it out!
Batting tutorial - which is best for my purpose?
make the quilt sandwich WITHOUT spray adhesives or thread basting! (meet binder clips, painters tape, and pinmoor)
quilt by free motion or by hand
calculate how much fabric to bind the piece
Prepare and apply binding
Access combined quilting knowledge of Ella, Dawn, Faye
Lunch - brown bag or order for delivery (Chinese, Italian, Der Dutchman)

MINI CLASS
Dog Leash. October 24 Thursday 10-12:30 Kit and class $8
Trick or Treat. October 31 Happy Halloween Wear a costume get a treat!
Quick/easy Placemat November 9 Saturday 1-3. Kit & class $20
Alma Sue's Hot Pads. November 16 Saturday 1-3. Kit & class $12
Holiday Cards December 5. Thursday 10-12:30 Kit & class $20

Strictly limited to 4 people. Call 941-330-0993 for a seat
Each project can be completed by a beginner in one session.

Hot pads. Sew one or a dozen for gift giving. Free pattern, the one we use in the store to make our hot pads. Use our scrap batting and select 2 fabric squares. Ella
Dog leash. Make a dog leash for each holiday, or show off your FL Gators or Ohio Buckeyes loyalty. Leash takes 1 swivel hook, two 2.5 inch strips, and interfacing. Faye
Placemat. Learn how to make an easy placemat with the Bosal placemat forms. Now you can make a set for each holiday! Each placemat takes 2 FQ, or 1/2 yard cut. Kit includes supplies to make 2 placemats. Ella
Holiday Cards. Using blank 4x5 card stock, fabric, and fusible webbing, make a set of holiday cards to wow your friends this season. Stitch around the card with one of those decorative stitches on your sewing machine that rarely get used! Kit includes supplies to make a set of 10 cards with envelopes. Ella & Dawn

One Block Wonder Class using panels
New dates TBD
Class fee includes book and ruler. Buy 4 panels, get 3 free (some exceptions apply)
Learn how to make this amazing pattern using panels. Confident beginner. 4 spaces

MEGA STAR or Lone Star class. $85
SOLD OUT!
Call 041-330-0993 to get on waiting list for next session
November 12, 19, 26 (Confident Beginner)
Tuesday morning 10-1:30
Pattern, Bali pops, background fabric, and binding is included in the class fee. If you have ever wanted to make a lone star quilt, this is the fastest and easiest pattern we have found. Uses two Bali pops or another jelly roll with 40 strips. The pattern shows a modern adaptation by cutting off some of the points. To make a classic lone star quilt, just don't cut off the points and add borders around the entire star. We will show you how. Choose your color from a wide range of Bali pops, or use up one of your own jelly rolls.

PRIVATE CLASSES - $20/hour
Beginning Sewing, How to use your sewing machine, make a T shirt quilt or Memory Quilt, Beginning Quilting, Finish a Project, Free Motion Quilting, or whatever your specific needs happen to be.
Call 941-330-0993 to set a date and discuss your individual needs.

Private class on the Bernina Q20 available Monday or Friday - $20/hour
Learn how to finish your own quilt instead of sending it out!

Sample made in from two blue Bali poppy strip sets. Select your colors and background fabrics from a wide selection of bali poppies.
Thursday from 1-4 pm
Fee: $8 per session. No charge if you are finishing a project from one of our classes!

Limited to 4 individuals. Please call 941-330-0993 to register!

This is not the same as a private class, however, we will help you with the details of finishing your project. Our "seasoned" staff has a combined pool of more than 150 years of knowledge and experience in quilting. Duke is the applique and repair expert, Faye excels in free motion quilting and general quilt construction, Dawn is a master at paper piecing, Dena knows every aspect of deciphering patterns and making quilts, and Ella fills in the gaps, having worked on several thousand quilts over the last 17 years. This unique mix of knowledge and skills in one place is unusual and you get to tap into this repository at the Open Sewing sessions. Thursday sessions are akin to a quilt academy.

If this is your first time, please tell us what you are working on to make sure we can match your needs with a staff member. This session is not appropriate for someone who has never made a quilt or for someone who needs one-on-one instruction. Call 941-330-0993 for a Private Lesson.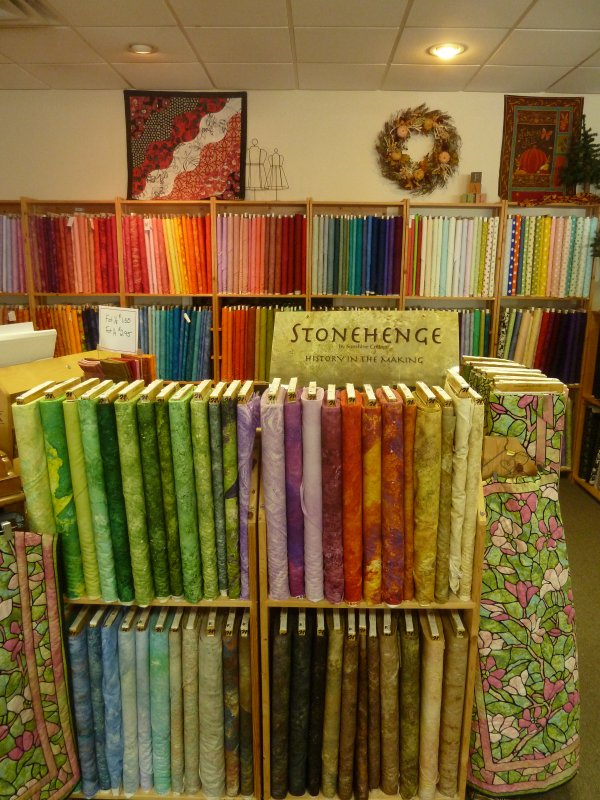 Check out our assortment of blenders. We make many Custom Quilts and use a lot of blenders! Stonehenge by Northcott, Dimples by Andover, Basic Backgrounds Tone on Tone in White, Neutral, Off White, Muslins, Timeless Treasures Fairy Frost. Love those Metallic Blenders!
This website is for Information about the business.
TO PURCHASE products, go to www.AlmaSueShop.com (click on the header link above, online store)
TO See quilts in the hand frame and shop activity, go to FB:Alma Sue's Quilt Shop
TO contact Ella, send a message to EllaMillerToy@aol.com
TO Call the shop 941-330-0993
Send Mail to:
Alma Sue's Quilts
3737 Bahia Vista Street, Suite 11
Sarasota FL 34232
To avoid theft in transit when sending a quilt, omit the word "quilts" and send only to Alma Sue or to Ella Toy