The Pineapple Block = $38 Confident Beginner
February 21 and 28 (Wednesday)
1-4 pm Limited to 4 students
A new class by Dena.
Call 941-330-0993 to reserve a spot
Price includes Creative Grids pineapple ruler (large size), multiple patterns showing how to make variations of the pineapple block, class, and 2 free open sewing sessions to complete the project. Note: the class fee does not include a fabric kit. Our sample was made with a French General collection. You may choose that fabric, or use fabric from your stash or even scraps.
In class you will learn how to make the blocks. You can choose to set them into a table runner as the sample, or continue to make many blocks and set them into a quilt.

Bargello $85 Confident Beginner
Feb. 27, March 6, March 13 10 am-1 pm
A repeat of the popular Bargello runner class to learn the technique. Class includes precut kit, book, instructions and 2 free open sewing sessions to complete runner. Book includes many quilt patterns once the technique is perfected.

Grandmother's Fan $38 Beginner
Tuesday February 20, 27 Faye
Fee includes wedge ruler, pattern, instructions, precut 10" layer cakes, and 2 free open sewing sessions to complete project.
Learn the easy way to work with curves. Then assemble the completed fan squares in one of many layouts to create a variety of patterns. Fan blades requires one charm pack, 12 jelly roll strips, or a handful of your scraps (fabric not included in class fee).

PRIVATE CLASSES - $12/hour
Beginning Sewing, How to use your sewing machine, T shirt quilt, Memory Quilt, Beginning Quilting, Finish a Project, Free Motion Quilting, or whatever your specific needs happen to be.
Call 941-330-0993 to set a date and discuss your individual needs.

Announcing Radical Wednesday
Radical Prices on Clearance Fabrics

Each Wednesday clearance bin is $4/yard, minimum cut is 1/2 yard. Fat quarters in clearance bin are $2 each. Just arrived in clearance bin January 19, many colors of marbles.

New in the clearance bin - a selection of tiny prints designed by Mary Fons. Flat folds not wrapped on bolts. Each bundle is about 5 yards. Must take entire bundle at $4/yard every day. Great prints to use as quilt backing fabric.

Thursday from 1-4 pm
Fee: $8 per session. No charge if you are finishing a project from one of our classes!

Limited to 4 individuals. Please call 941-330-0993 to register!

This is not the same as a private class, however, we will help you with the details of finishing your project. Our "seasoned" staff has a combined pool of more than 150 years of knowledge and experience in quilting. Duke is the applique and repair expert, Faye excels in free motion quilting and general quilt construction, Dena knows every aspect of deciphering patterns and making quilts, and Ella fills in the gaps, having worked on several thousand quilts over the last 15 years. This unique mix of knowledge and skills in one place is unusual and you get to tap into this repository at the Open Sewing sessions. Thursday sessions are akin to a quilt academy.

Use our machines, or bring yours.

If this is your first time, please tell us what you are working on to make sure we can match your needs with a staff member. This session is not appropriate for someone who has never made a quilt or for someone who needs one-on-one instruction. Call 941-330-0993 for a Private Lesson.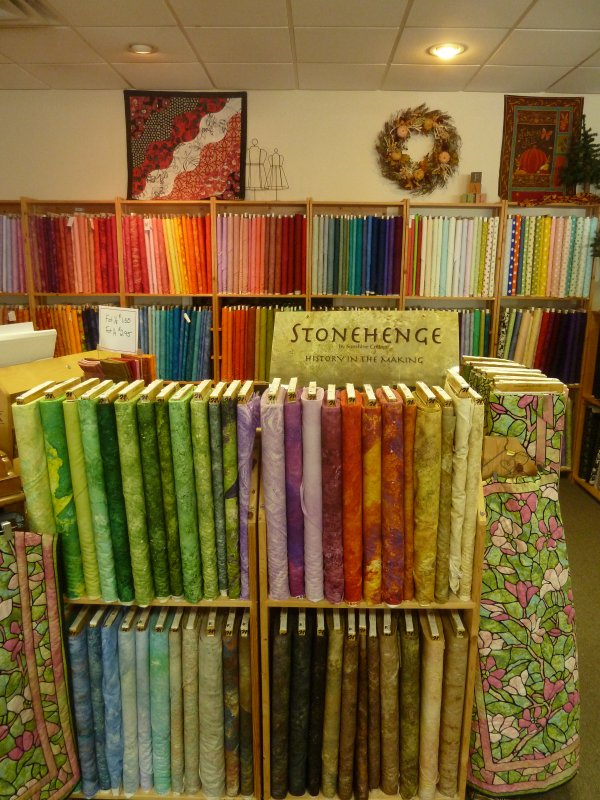 Check out our assortment of blenders. We make many Custom Quilts and use a lot of blenders! Stonehenge by Northcott, Dimples by Andover, Basic Backgrounds Tone on Tone in White, Neutral, Off White, Muslins, Timeless Treasures Fairy Frost. Love those Metallic Blenders!