17th Anniversary Sale!
February 6-9. Selected items on sale throughout the week.

Scrap Sale on Saturday Feb. 9
scrap fabric is $2/pound

Wednesday special 20% off Block lock rulers
20% off Fat Quarter bundles of 6
20% off fat eight bundles of 8

Thursday special 20% off any batting

Friday special sale rack = $4/yard, minimum cut 1 yard

Week long specials including half off selected notions; yo yo makers, bias tape makers, sew wonderful rulers, misc stabilizers
Clearance prices on many books and patterns
Half off remaining Christmas fabric
Half off selected wall hangings, small Quilts, Christmas pieces

Everyone gets a wooden nickel. Good for future specials on wooden nickel days, usually on Wednesday.


CLASSES
Bargello - Confident Beginner - Faye
February 1, 8, 15
Friday morning 10-1 pm
$85
Fee INCLUDES precut fabric kit to make one Bargello runner, Bargello book, 2 free open sewing sessions to finish if needed. Fabric palette is in neutral colors.
Learn the bargello technique. It is simply working with strips. sew one way, then cut with alternate sizes and sew together the other way. Once you know the technique it can be applied to any one of the quilt designs in the book provided.

Another Bargello class scheduled for Friday afternoon 1-4 pm, March 1, 8, 15
Call 941-330-0993 for a seat

One Block Wonder $60 - Faye
Thursday morning from 10-1
February 28, March 7, March 14
Suitable for confident beginner
Once again we offer the One Block Wonder class. This technique needs to be in your quilting repertoire. Take a print, a stripe, a large pattern, a panel, make 6 layers and cut wedges. If using a panel, it takes 7 pieces. One for the center and 6 to cut into hexagons. Presto! An abundance of hexagons to sew together. You control the color placement. No two turn out the same way. Finally when sewed, we show you how to add a border to the quilt, not an easy task with so many pieces on the bias.
For your convenience we pulled several bolts that would make good one block wonder quilts when cut up.
Class fee includes book, instructions, 60-degree ruler, and 2 free open sewing dates to complete the project.
Get on FB and search for "One Block Wonder Quilt Forum" to see dozens of finished OBW quilts.

Double Wedding Ring $68- Dena
Wednesday afternoon from 1-4 pm
February 20, 27, March 6
Confident Beginner
Class includes Marti Martelli template set, instructions, and 2 free open sewing sessions to complete project. The Martelli template set includes instructions to make a variety of patterns, including the pickle dish, and robbing Peter to pay Paul.
You will learn two techniques in this class. Make the traditional arc using small pieces of fabric, or use a modern approach and make the entire arc from one print. Making the arcs from small pieces is a great way to use up your scraps or leftovers from other projects.
Strictly limited to 4 students. Only 2 spaces available!
Call 941-330-0993 for a seat. Class always fills quickly.

Paper Piecing - Dawn
$60 Class is Filled!
January 11, 18, 25
Friday mornings 10-1 pm
Fee includes fabric kit, instructions, and add-a-quarter ruler.
4 spaces available. Call 941-330-0993 for a seat.

Another session open - 1 space left in second session!
February 1, 8, 15 $60
Friday afternoon 1-4 pm
Fee includes fabric kit, instructions, and add-a-quarter ruler

Monthly Runner Class starts in March!
Watch for dates. Each month we feature a different seasonal table runner beginning in March.
4 spaces available each month. Class day is Tuesday.
Fee includes fabric kit to make the runner and binding, pattern, and instruction.
We want to ensure that everyone finishes their projects, so each class will include a session on quilting the runner and applying the binding. Backing and batting purchased at Alma Sue's is at a 20% discount for class students.
Make one, make a select few, or make all the runners.

PRIVATE CLASSES - $20/hour
Beginning Sewing, How to use your sewing machine, T shirt quilt, Memory Quilt, Beginning Quilting, Finish a Project, Free Motion Quilting, or whatever your specific needs happen to be.
Call 941-330-0993 to set a date and discuss your individual needs.

Private class on the Bernina Q20 available Monday or Friday - $20/hour
Learn how to finish your own quilt instead of sending it out!

Saturday Sidewalk Sale

February 9

Come out and peruse the offerings from local artisans.
Have something to sell? Collect your items, bring a table and chairs and come on over to Alma Sue's. The Friendship Knot raffle quilt will be on display and it's a good time to buy one or more tickets to win the quilt. The Carlisle Inn next door is at 100% capacity with guests from out of town and out of the country. They like to walk around and buy local items.
For more information and to reserve a space, contact the person in charge at:

Paul. Bestinsoles@gmail.com



17th Anniversary Sale


Wed - Saturday February 6-9



Scrap Sale


Saturday February 9
bags of batting $1 each
printed fabrics $2/pound





Thursday from 1-4 pm
Fee: $8 per session. No charge if you are finishing a project from one of our classes!

Limited to 4 individuals. Please call 941-330-0993 to register!

This is not the same as a private class, however, we will help you with the details of finishing your project. Our "seasoned" staff has a combined pool of more than 150 years of knowledge and experience in quilting. Duke is the applique and repair expert, Faye excels in free motion quilting and general quilt construction, Dena knows every aspect of deciphering patterns and making quilts, and Ella fills in the gaps, having worked on several thousand quilts over the last 15 years. This unique mix of knowledge and skills in one place is unusual and you get to tap into this repository at the Open Sewing sessions. Thursday sessions are akin to a quilt academy.

If this is your first time, please tell us what you are working on to make sure we can match your needs with a staff member. This session is not appropriate for someone who has never made a quilt or for someone who needs one-on-one instruction. Call 941-330-0993 for a Private Lesson.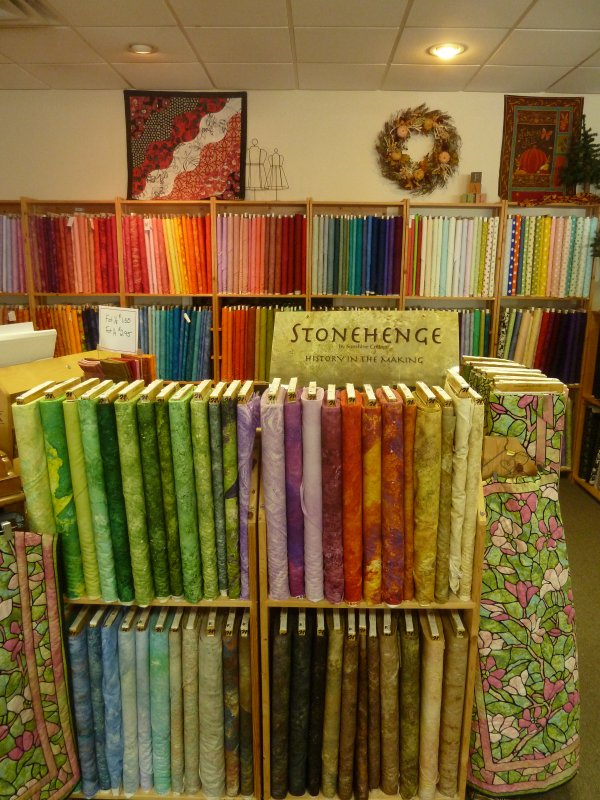 Check out our assortment of blenders. We make many Custom Quilts and use a lot of blenders! Stonehenge by Northcott, Dimples by Andover, Basic Backgrounds Tone on Tone in White, Neutral, Off White, Muslins, Timeless Treasures Fairy Frost. Love those Metallic Blenders!
This website is for Information about the business.
TO PURCHASE products, go to www.AlmaSueShop.com
TO See quilts in the hand frame and shop activity, go to FB:Alma Sue's Quilt Shop
TO contact Ella, send a message to EllaMillerToy@aol.com
Call the shop at 941-330-0993
Send Mail to:
Alma Sue's Quilts
3737 Bahia Vista Street, Suite 11
Sarasota FL 34232
To avoid theft in transit when sending a quilt, omit the word "quilts" and send only to Alma Sue.