Double Wedding Ring - CANCELLED
Monday & Tuesday
January 11 and 12, 2021
10-4
Class at Carlisle Inn Conference Center
Fee = $125
Includes
Marti Martelli template set and book ($40 value)
Boxed lunch each day
PPE
Why not stay overnight? Make a room reservation with the Carlisle hotel directly Call 844-369-2275

Attic Window Class TBA
watch for a later date

OBW class TBA
watch for a later date
Carlisle Inn Conference Room

One Block Wonder Class using panels. $125
Limited to 10 students. Each person has two 6-foot tables set apart at an appropriate distance. Supplies are available to sanitize your work space - gloves, sanitizer, alcohol wipes, face shield, etc.
A boxed lunch is provided so you can eat at your work station. All lunches come with grilled chicken and your choice of salad or cottage cheese, pumpkin bread, piece of fruit, cookie, and beverage.
Two class sessions: Session 1 TBD - cutting and sewing panel strips
Session 2 TBD - design
Class fee includes book, ruler, and lunch
Call 941-330-0993 to reserve a space
Class special: Buy 4 panels, get 3 free
Suitable for the Confident beginner
Call 941-330-0993 to sign up and select your lunch menu.


---
Pattern is available in store ($10.50)
The center star takes one strip set (40-42 pieces), not a junior set (20 pieces) or TWO packages of Bali Poppies (each pkg has 20 strips).
This sample was made with Hoffman blue strip set.
Open Sewing Sessions are suspended until further notice.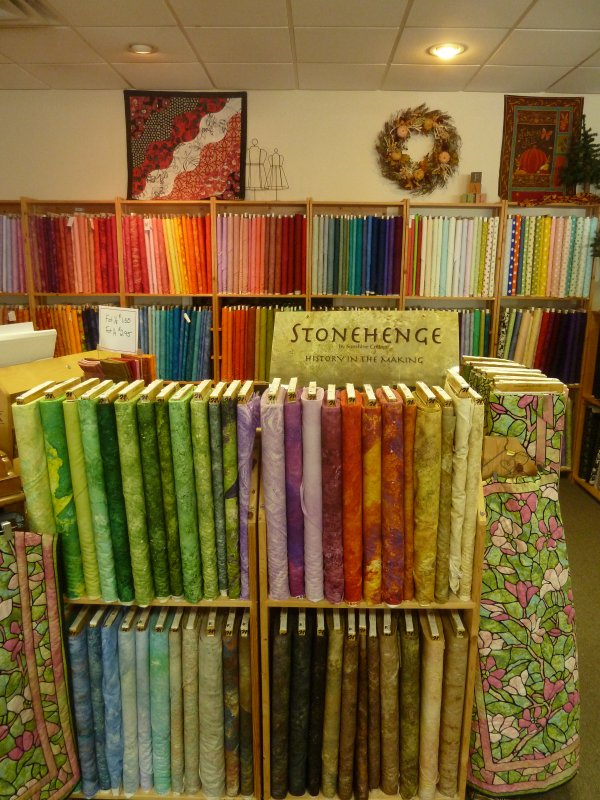 Check out our assortment of blenders. We make many Custom Quilts and use a lot of blenders! Stonehenge by Northcott, Dimples by Andover, Basic Backgrounds Tone on Tone in White, Neutral, Off White, Muslins, Timeless Treasures Fairy Frost. Love those Metallic Blenders!
This website is for Information about the business.
TO PURCHASE products, go to www.AlmaSueShop.com (click on the header link above, online store) or go to Etsy.com and search for our store
TO See quilts in the hand frame and shop activity, go to FB:Alma Sue's Quilt Shop
TO contact Ella, send a message to EllaMillerToy@aol.com
TO Call the shop 941-330-0993
Send Mail to:
Alma Sue's Quilts
3737 Bahia Vista Street, Suite 11
Sarasota FL 34232
To avoid theft in transit when sending a quilt, omit the word "quilts" and send only to Alma Sue or to Ella Toy