TENT SALE Saturday Oct. 6
Clearing out gift items, edge crocheted fleece blankets, quilts, puzzles, neckties, books, cookbooks, yarns, aprons, patterns, Advent calendars, christmas wall hangings, etc. Lots of fabric moving to the $5/yard rack. Bundles of 6 yard cuts at $4/yard, perfect for quilt backings. Christmas trees, merchandising/decorator items.
We have been cleaning out our storage bins and filling the P.O.D. sitting in the parking lot. Everything out for sale on Saturday October 6.
Sample prices: lots of fabric at $5 and $4/yard
Selected FQ $1 each Childs fleece blankets $5 each
Neckties $3 each puzzles $5 each
books/cookbooks $1 and $2 each aprons half off
advent calendars, christmas wall hangings half off
selected wall hangings, crib quilts half off

Search for "Alma Sue's Quilt Shop" on Facebook to get daily/weekly updates and photos of kits, quilts in the frame, and sales.

CLASSES
Hidden Stars - Confident Beginner - Faye
Tuesday September 18, 25, Oct. 2, 1-4 pm $85
Fee INCLUDES fabric kit (all 2.5 inch strips) to make one quilt, pattern, instructions, 2 free open sewing sessions to finish quilt. Fabric palette is in autumn colors.
Learn an easy way to make stars using 2.5 inch strips. You won't believe how quickly this classic Ohio star sews up - no set in corner squares or triangles. Even we were completely shocked at how easy it is to make these stars! This is the second class project using this method.
Techniques: Half square triangles, snowball corners, stars, borders
Our goal is to teach the technique making one project, then show how to be creative and use the same technique for other projects.

Halloween Table Runner - confident beginner - Faye
Tuesday October 9 and 16, 1-4 pm. $45
Fee includes fabric kit to make a cute Halloween/fall pumpkin table runner. This class is a good one to hone your skills of accurate cutting and piecing. You will be cutting lots of small pieces and pressing at own sewing table, so bring a smaller cutting mat, ruler, and pressing mat. A 28 mm or 18 mm rotary cutter is ideal for smaller pieces. A small Clover iron is perfect for this project.
Techniques: accurate cutting, pressing, and piecing

Basics of Free Motion Quilting - Faye
Tuesday October 23, 1-4 pm. $40
Sending your quilts out to be finished becomes expensive. Learn how to finish them on your machine. You can do this! Faye will guide you beyond stitching in the ditch into creating patterns. And we won't spend the first two hours lecturing or making you buy expensive supplies. You will need a sewing machine that drops feed dogs. Look in your attachments and find either a darning foot, big foot, or embroidery food, the one used when machine is in embroidery mode. Sample practice sandwich is provided in in class fee.

Needle turn applique table runner - $38 - Duke
Next dates TBD
Our Ellie Sienkiewicz-trained applique expert will guide you in making a beautiful table runner on black or white tea toweling for an upscale farmhouse or on jute for a beachy look. No quilting needed. Learn to transfer a pattern or create your own pattern, and make stems the easy way. No, you don't need an expensive stem turner gadget.
Class fee includes applique fabrics and toweling (black or white) or jute. No quilting needed for this project. Once applique is finished, runner is done!

PRIVATE CLASSES - $20/hour
Beginning Sewing, How to use your sewing machine, T shirt quilt, Memory Quilt, Beginning Quilting, Finish a Project, Free Motion Quilting, or whatever your specific needs happen to be.
Call 941-330-0993 to set a date and discuss your individual needs.

Private class on the Bernina Q20 available Monday or Friday - $20/hour
Learn how to finish your own quilt instead of sending it out!

More Classes and Samples in Process
More Classes and Samples Under Construction
sign up for the newsletter to get up to date information or follow us on Facebook (Alma Sue's Quilt Shop) for photos and info





Thursday from 1-4 pm
Fee: $8 per session. No charge if you are finishing a project from one of our classes!

Limited to 4 individuals. Please call 941-330-0993 to register!

This is not the same as a private class, however, we will help you with the details of finishing your project. Our "seasoned" staff has a combined pool of more than 150 years of knowledge and experience in quilting. Duke is the applique and repair expert, Faye excels in free motion quilting and general quilt construction, Dena knows every aspect of deciphering patterns and making quilts, and Ella fills in the gaps, having worked on several thousand quilts over the last 15 years. This unique mix of knowledge and skills in one place is unusual and you get to tap into this repository at the Open Sewing sessions. Thursday sessions are akin to a quilt academy.

If this is your first time, please tell us what you are working on to make sure we can match your needs with a staff member. This session is not appropriate for someone who has never made a quilt or for someone who needs one-on-one instruction. Call 941-330-0993 for a Private Lesson.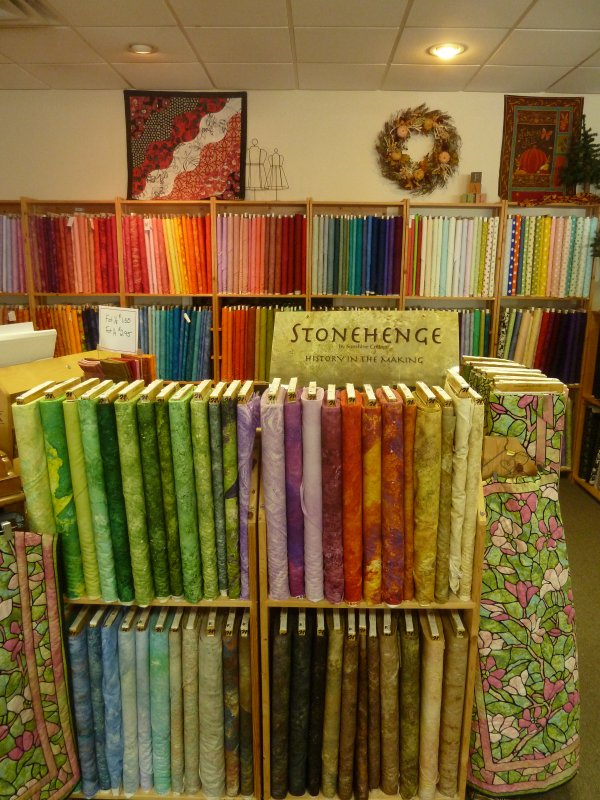 Check out our assortment of blenders. We make many Custom Quilts and use a lot of blenders! Stonehenge by Northcott, Dimples by Andover, Basic Backgrounds Tone on Tone in White, Neutral, Off White, Muslins, Timeless Treasures Fairy Frost. Love those Metallic Blenders!
This website is for Information about the business.
TO PURCHASE products, go to www.AlmaSueShop.com
TO See quilts in the hand frame and shop activity, go to FB:Alma Sue's Quilt Shop
TO contact Ella, send a message to EllaMillerToy@aol.com
Call the shop at 941-330-0993
Send Mail to:
Alma Sue's Quilts
3737 Bahia Vista Street, Suite 11
Sarasota FL 34232
To avoid theft in transit when sending a quilt, omit the word "quilts" and send only to Alma Sue.