NEW CLASS!
Document and date fabrics and quilts
Saturday afternoon 1-3 pm $12/session
beginning February 15
This is a Lab session, no sewing. You will work hands on with vintage fabric and quilts. Dawn and Ella will help you learn the clues to identifying when a fabric or quilt was made, based on pattern, color, type of dye, prints, batting, etc. Join in on one or as many sessions as you like. Get a chance to document your own heirlooms, but please DO NOT bring to first session!

---
One Block Wonder Class using panels. $75
Tuesday morning 10-1 with Faye
February 11, 18, 25 and
SOLD OUT!
Thursday morning 10-1 with Faye
February 13, 20, 27
SOLD OUT!
Call 941-330-0993 to reserve a space in next session
Class fee includes book and ruler. Buy 4 panels, get 3 free (some exceptions apply)
Learn how to make this amazing pattern using panels. Confident beginner. 4 spaces

---

MEGA STAR or Lone Star class. $85
Tuesday afternoon 1:30-4:30
February 11, 18, 25
(Confident Beginner)
Call 941-330-0993 for a seat
Pattern, Bali pops, background fabric, and binding is included in the class fee. If you have ever wanted to make a lone star quilt, this is the fastest and easiest pattern we have found. Uses two Bali pops or another jelly roll with 40 strips. The pattern shows a modern adaptation by cutting off some of the points. To make a classic lone star quilt, just don't cut off the points and add borders around the entire star. We will show you how. Choose your color from a wide range of Bali pops, or use up one of your own jelly rolls.

---
PRIVATE CLASSES - $20/hour
Beginning Sewing, How to use your sewing machine, make a T shirt quilt or Memory Quilt, Beginning Quilting, Finish a Project, Free Motion Quilting, or whatever your specific needs happen to be.
Call 941-330-0993 to set a date and discuss your individual needs.

Private class on the Bernina Q20 available Monday or Friday - $20/hour operational instruction

Learn how to finish your own quilt instead of sending it out!

Sample made in from two blue Bali poppy strip sets. Select your colors and background fabrics from a wide selection of bali poppies.
Thursday from 1-4 pm
Fee: $8 per session. No charge if you are finishing a project from one of our classes!

Limited to 4 individuals. Please call 941-330-0993 to register!

This is not the same as a private class, however, we will help you with the details of finishing your project. Our "seasoned" staff has a combined pool of more than 150 years of knowledge and experience in quilting. Duke is the applique and repair expert, Faye excels in free motion quilting and general quilt construction, Dawn is a master at paper piecing, Dena knows every aspect of deciphering patterns and making quilts, and Ella fills in the gaps, having worked on several thousand quilts over the last 17 years. This unique mix of knowledge and skills in one place is unusual and you get to tap into this repository at the Open Sewing sessions. Thursday sessions are akin to a quilt academy.

If this is your first time, please tell us what you are working on to make sure we can match your needs with a staff member. This session is not appropriate for someone who has never made a quilt or for someone who needs one-on-one instruction. Call 941-330-0993 for a Private Lesson.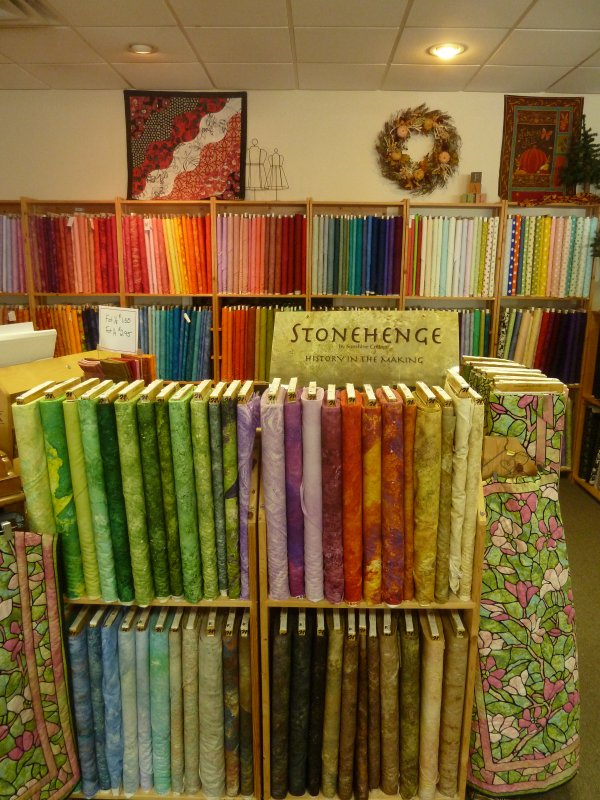 Check out our assortment of blenders. We make many Custom Quilts and use a lot of blenders! Stonehenge by Northcott, Dimples by Andover, Basic Backgrounds Tone on Tone in White, Neutral, Off White, Muslins, Timeless Treasures Fairy Frost. Love those Metallic Blenders!
This website is for Information about the business.
TO PURCHASE products, go to www.AlmaSueShop.com (click on the header link above, online store)
TO See quilts in the hand frame and shop activity, go to FB:Alma Sue's Quilt Shop
TO contact Ella, send a message to EllaMillerToy@aol.com
TO Call the shop 941-330-0993
Send Mail to:
Alma Sue's Quilts
3737 Bahia Vista Street, Suite 11
Sarasota FL 34232
To avoid theft in transit when sending a quilt, omit the word "quilts" and send only to Alma Sue or to Ella Toy