Winter Twist = $125
New dates TBA
1-4 pm Limited to 4 students
Price includes pattern book, fabric kit, instructions, and free open sewing sessions on Thursday to finish project. Pattern book contains instructions for quilt, table runner, tree skirt, and cookie recipes. See photos on FaceBook.
Winter Twist is one of the nicest holiday/winter quilts we have seen in quite a while, beautiful red poinsettia focus print with white background, sashed in garden lattice design with reds and greens. Designed by Jason Yenter at In The Beginning fabric company.
Call 941-330-0993 for a seat.

Double Wedding Ring = $55
January 3, 10, 17 (Wednesday)
1-4 pm Limited to 4 students
A repeat of the popular DWR class by Dena.
Call 941-330-0993. Class is filled! Call for a spot on waiting list.
Price includes template set by Marti Michell. Make your quilt using one fabric for the arc, or make the classic pattern using a pieced arc. This is the best template set to use so everything fits perfectly. Dena will give tips on how to sew perfect curves. The DWR on our FaceBook profile photo was made using this template set and Kaffe Fassett fabrics. Scraps of fabric are great for this quilt, or use a planned color combination. The class will make enough rings for a throw size. Once you learn the technique, make as many rings as desired for a larger size. This template set is also used to make placemats and table runners.
Class fee includes free open sewing sessions on Thursday to complete the quilt top as needed.

Bargello Class (runner) $85
Nov. 7 & 14, Tuesday 12:30-4 pm
Price includes book, Fabric Kit, instructions, and free open sewing sessions on Thursday to finish if needed.
Suitable for beginners who know how to use rotary cutting tools. This quilt is entirely strip pieced. Develop the skill with a runner, then move on to one of the numerous quilt size patterns in the book. Skills learned: strip piecing, organizing pieces

PRIVATE CLASSES - $12/hour
Beginning Sewing, How to use your sewing machine, T shirt quilt, Memory Quilt, Beginning Quilting, Finish a Project, Free Motion Quilting, or whatever your specific needs happen to be.
Call 941-330-0993 to set a date and discuss your individual needs.

Announcing Radical Wednesday
Radical Prices on Seasonal Fabric
beginning December 13

All seasonal prints (fall, holiday) = $5/yard EVERY DAY
All seasonal panels = $5/panel EVERY DAY
Minimum cut 1/2 yard
NEW! All seasonal Fat Quarters = $2/each

We have lots of great panels for quick and easy panel quilts:
Nativity scene, Herald Angels, Christmas trees (white, green, red), Santa, Northcott blue church panel, grey/white QT church panel, stockings large and small etc.

Add one or more simple borders, add a simple border and a pieced border, quilt and bind. Perfect as a wall hanging, lap quilt, throw, or expand to twin size.

Christmas Placemats and Runners - make it easy with precut, adhesive batting, turn inside out like a pillow or add binding

Make a stocking to gift the Christmas quilt or throw - we have all sizes, a giant one to fit a bed quilt, a medium size, or smaller ones to fit all sizes of gifts.
Radical prices on all seasonal fabric = $8/yd every day until gone

WACKY WEDNESDAY PRICES
All Clearance fabric = $4/yard every Wednesday






Thursday from 1-4 pm
Fee: $8 per session. No charge if you are finishing a project from one of our classes!

Limited to 4 individuals. Please call 941-330-0993 to register!

This is not the same as a private class, however, we will help you with the details of finishing your project. Our "seasoned" staff has a combined pool of more than 150 years of knowledge and experience in quilting. Duke is the applique and repair expert, Faye excels in free motion quilting and general quilt construction, Dena knows every aspect of deciphering patterns and making quilts, and Ella fills in the gaps, having worked on several thousand quilts over the last 15 years. This unique mix of knowledge and skills in one place is unusual and you get to tap into this repository at the Open Sewing sessions. Thursday sessions are akin to a quilt academy.

Use our machines, or bring yours.

If this is your first time, please tell us what you are working on to make sure we can match your needs with a staff member. This session is not appropriate for someone who has never made a quilt or for someone who needs one-on-one instruction. Call 941-330-0993 for a Private Lesson.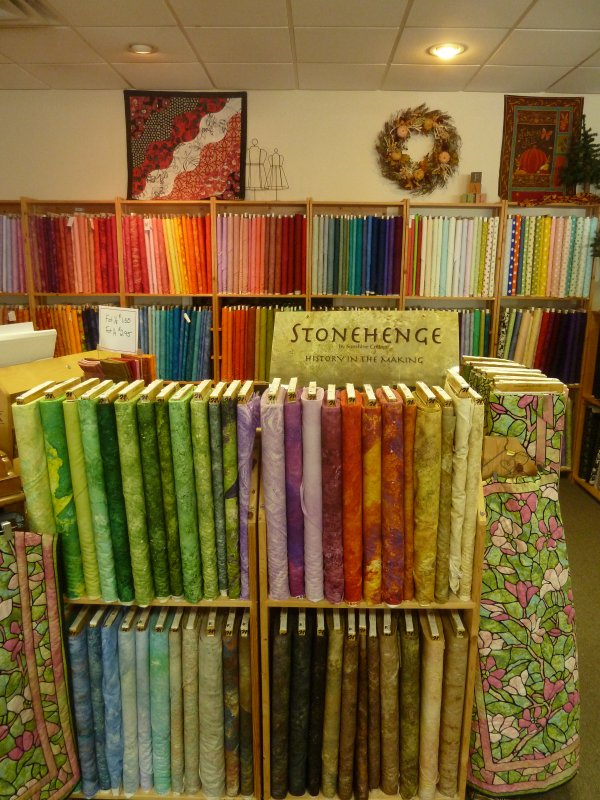 Check out our assortment of blenders. We make many Custom Quilts and use a lot of blenders! Stonehenge by Northcott, Dimples by Andover, Basic Backgrounds Tone on Tone in White, Neutral, Off White, Muslins, Timeless Treasures Fairy Frost. Love those Metallic Blenders!