This piece reminds me of Frank Lloyd Wright's "Prairie Window." It is a Bargello done in black and brown.
SOLD! Order yours today.
SOLD! Order yours today!
SOLD!
Ah yes. The Eureka quilt. Done in two different colors. Both are sold. We just finished two more tops in similar colors, ready for the quilting frame.
People from all over the U.S. and Europe come to Sarasota, Florida,
to experience the
year-round beauty of i
ts beaches, shoreline, and sunsets.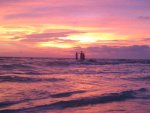 Many have discovered Sarasota is home to a unique, "always quilting" store where quilter
s
with years of experience practice
their craft, right in the store. Visitors watch, ask questions, and enjoy the

friendly atmosphere.
Alma Sue's Quilts is a multi-purpose shop.
We make custom quilts, host quilting and sewing classes and special events, and offer a large selection of quilts, k
its, fabric, and
supplies. Most days, quilts are being made as customers shop.



Whe
n it comes to quilts, you name it and we do it.
We make customized quilts by hand. We bind, clean, and repair quilts. We can
complete an unfinished quilt started years earlier.
Inspiration for a custom-made quilt can come from anywhere. We can design a quilt based on a photo or just an idea.
It is a contemporary rendition of an old Grandmother's Fan pattern, assembled in a "trip around the world" setting.
It is called "Fluttering Fans" for a very good reason! The alternating light and dark tones in the fabric pattern give the "fans" a three-dimensional quality. Click on the photos for a better look. Sorry! This quilt is now sold and went home to the Midwest. If you just have to have one, call the shop.
Another one of our specialties is memory quilts. Click here to see and read more.


We make quilted potholders, scrubbies, tea towels, custom placemats, napkins, table runners, and of course, baby quilts, throws, and bed quilts, and many other items from fabric.

We offer many types of fabric from the U.S. and ov
erseas. We carry a full line
of blenders from Northcott, Andover and Michael Miller as well as batiks from Anthology and Robert Kaufman.
Our beautiful quilts include one on display at the Edison & Ford Winter Estates in Fort Myers, Florida, one on display at Mote Marine.
Our customers include John Sims, an internationally known artist and former Coordinator of Mathematics at Ringling College of Art and Design in Sarasota. We have made quilts for a senator's cabin, and two for a local author's northern home.

We think the pleasure of quilting goes hand in hand with the pleasure of helping others.
We have participated in and given fabric donations to make pillowcases for hospitalized Children, blankets for the Sarasota Homeless, Pillowcase dresses for the children in Haiti.
Over the past several years, Alma Sue's donated over 300 yards of fabric to the Kidz Quilts group of ladies who make quilts for the babies and children at Sarasota Memorial Hospital.
Often we come in to the shop and find a box of donated stash sitting outside our door from someone who can no longer sew and quilt. We make sure these donations find a good home by passing them on to one of the area churches to make sewing kits, school kits, and health kits for disadvantaged children. Some of the fabric is used by sewing circles to make quilts to be tied or stitched and donated to various causes through MCC (Mennonite Central Committee). Sometimes the fabric is donated to the Salvation Army where quilts and pillows are made for distribution to needy individuals.
The sewing circle ladies of several churches are involved in these projects and are always eager for our fabric scraps.